Our Fine Finishes
We offer the finest interior finishes and have extensive experience in faux and creative finishes such as Venetian plaster, color washes, and texturing. Our team will collaborate with you to capture the vision you have for your home.
We will gladly suggest colors and alternative finishes, help determine the level of detail required for your project, and recommend application methods to achieve the look you desire.
Specialty Paints
These are just a few of the specialty paints we recommend for our clients:
Specialty Finishes
Milestone/SkimStone: decorative concrete that mimics marble, tile, or other natural stones.


.


Frank Lloyd Wright was famous for his stained and tinted cement finishes; he often used his signature color – Cherokee Red – on floors and tiles.


.


Today we can create smooth and textured stone-like finishes like those Wright used, but with a modern twist. By combining cement powder with liquid acrylic, we can have a nearly unlimited range of color and add recycled colored glass, pebbles, and sand for unique textures.


.


Appropriate for walls, ceilings, fireplace surrounds, counter tops and sinks in kitchens and baths, shower surrounds – the possibilities are endless.


.

Venetian Plaster: a highly polished, rock-hard, marble-like finish.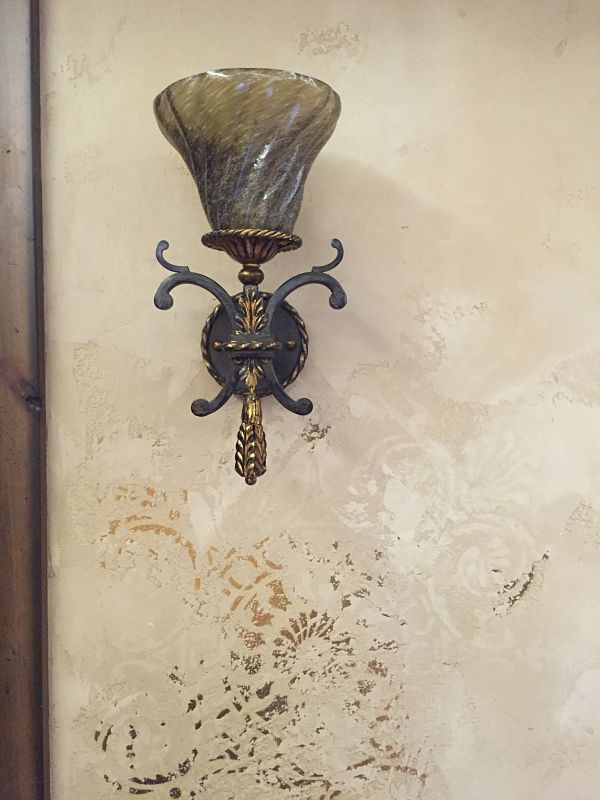 Silky smooth, nearly translucent, Venetian Plaster is applied in multiple coats and hand-rubbed with wax to create a warm finish – from velvet to glossy – that demands to be touched.
At Cleft Painting, we carefully apply one or more colors to a wall to give the color depth and then patiently apply wax and polish it for the final finish. Run your hand across it and feel the finish. The only way you can tell it is not stone is because the finish is warm to the touch, not cool like stone.
In the image to the left, Cleft Painting has created an aged look with multi-colored stencils, plaster, and wax to deliver an elegant result.
(Click on the image to the left for a larger version to see the detail.)